Stradbroke Primary Academy celebrates International Dot Day through whole school art project
Back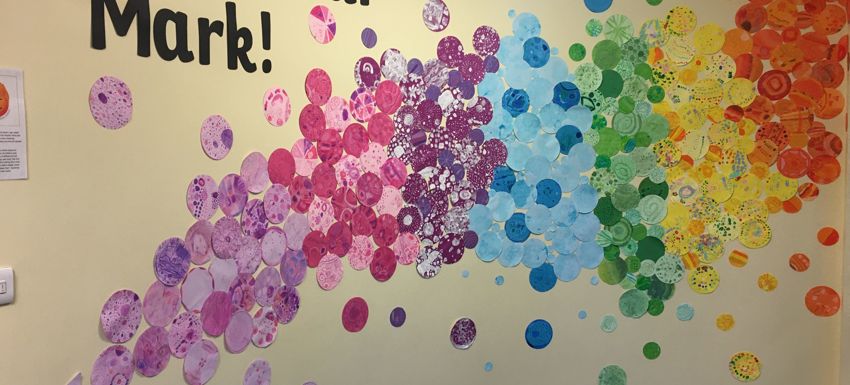 November 19th 2021
For International Dot Day, Stradbroke Primary Academy coordinated a whole school art project, enabling all children to explore their creativity and find their inner artist.
Inspired by the picturebook, 'The Dot' by Peter Reynolds, every class listened to the story of a girl called Vashti who believed she couldn't draw, though her teacher knew she could, just by making a single mark. Using this book as the platform for their inspiration, every class was exposed to and experimented with a variety of art techniques and mediums through exploring the formal elements of tone, colour and line in the form of mark-making.
All children took part in several art lessons where they learnt new skills, key vocabulary and how to use different mediums, including: watercolours, oil pastels, paints and wax resist. This gave the children the opportunity to discover their own style before producing their final piece for the whole school display.
Each class, from reception, to Year 6, were given a certain coloured dot for every pupil to design and make their own. Just by making a single mark, every child was free to let their imagination and creativity flow from the moment a paintbrush or oil pastel touched the paper. The finished artwork was arranged to form a beautiful collaborative whole school art display, showcasing the young artists at Stradbroke Primary Academy and their love for art.
This first whole school art project was a great success and all of the children couldn't be prouder of their work. It is such a vibrant, joyful display that puts a smile on all of the children's faces, knowing their work is on display for all to see. It is a constant reminder of the children's love for art and a celebration of diversity, showing that everyone is unique and different - not one dot is alike. Anyone can be a true artist!
Stradbroke Primary Academy pupils said:

"I learnt that just by using a few colours and overlapping techniques, you can make an extraordinary piece of art."

"I liked being able to express my feelings through the mark-making session."

"I liked being able to get messy."


"The display is so vibrant and colourful. It brightens up the whole school."

"I like how every child has their own unique style and piece of artwork."

"I really love art and found this project very relaxing and calming."